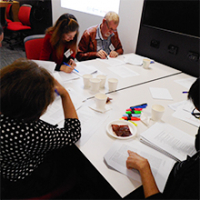 Earlier this year, the Cochrane Consumers and Communication Review Group (CCCRG) published a new protocol that was co-produced with an enthusiastic group of stakeholders, entitled Consumers and health providers working in partnership for the promotion of person‐centred health services: a co‐produced qualitative evidence synthesis. The next step, as CCCRG Managing Editor and lead author Bronwen Merner explains, is to co-produce the review itself. 
'The origins of this protocol lie in the Priority Setting Project, led by Annie Synnot, that our Group undertook back in 2015. The project really gave us something of a template for stakeholder involvement in our work,' Bronwen says. 'At that time, we wanted to choose five new review topics that were as relevant as possible to the people who need health evidence - be they policy makers, clinicians, researchers, consumers or carers. So we asked representatives from all these areas to identify and share their priorities and were overwhelmed by their enthusiastic and informative responses. We found that stakeholders didn't just want to be involved in identifying the problems and priorities, they also wanted to be involved in finding the solutions and evidence for them.' 
'This has inspired and shaped a lot of the work we're now doing in co-production, including this latest protocol for our qualitative evidence synthesis (QES) - which is a summary and synthesis of qualitative research in a particular area. The QES protocol was co-produced with a stakeholder panel of 18 people who have a wide range of expertise: consumer representatives with experience in service improvement and policy; health professionals with expertise in clinical governance; and others involved in developing or implementing quality and safety policy and standards.'
'The essence of person‐centred care is a healthcare system that's designed around the consumer, with respect for their preferences, values and needs,' Bronwen explains. 'The global trend towards person‐centred care is a major but relatively recent phenomenon. We're keen to understand how it can work to benefit people and health systems around the world. So this review aims to contribute to building Cochrane's evidence base for understanding and promoting person‐centred care. We know from our work with our own stakeholder panel that health services are already seeking guidance informed by evidence in this area.'
The aims of the QES are to:
investigate the barriers and facilitators to working in partnership and how these may promote or impede person‐centred planning, delivery or evaluation of health services. For example, if consumers or health providers are given sufficient training to help them work in partnership on a hospital quality and safety committee, they may be better able to contribute their unique perspectives to quality and safety decisions.

understand consumers' and health providers' views and experiences of working in partnership.

analyse the ways consumers and providers work in partnership (e.g. committee formats, experience‐based co‐design formats)
'We'll be looking at studies in healthcare organisations that provide direct care to patients, such as community health centres, GP clinics, specialist outpatient clinics and hospitals. We also want to look at studies from diverse rural and urban settings in low, middle and high‐income countries.'
'Overall we hope to see some universal principles or themes that we can draw out from our research that will be applicable across a range of settings,' Bronwen says. 'As well as providing guidance to shape the topic and the protocol, the stakeholder panel were involved in selecting studies for this review. While the research team will now do the bulk of the analysis and identify these major themes, we will consistently present our findings to our stakeholder panel over time to get their views on what resonates with them, or whether they feel that there are gaps we need to address. In this way our stakeholders will continue to be instrumental in co-producing research that is designed to be relevant and accessible in a practical setting.'
'I think our findings will be of particular interest to people working in hospitals or health services who are looking to involve consumers or develop a partnership approach in their governance or service development activities. We hope to provide valuable, evidence based guidance for them. Ideally there'll be a lot of benefits for consumers too in terms of identifying what's needed in a partnership for it to go well – for example do you need specific training or support to engage in a governance committee, or should there be some form of remuneration on offer. These are questions we need more evidence to answer.'
Image: Bronwen works with stakeholders at a recent workshop.