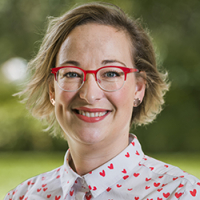 It's hard to be all things to all people, but the Cochrane Consumers and Communication Review Group (CCCRG) has found a way to offer much to many through an innovative priority setting exercise. What began in March 2015 as a wide-ranging consultation process has become a template for successful consumer and stakeholder involvement, bringing insights from and benefits to a diverse range of people and groups.
'Essentially we wanted to choose five new topics for our Cochrane Reviews,' explains CCCRG Research Fellow and project lead, Annie Synnot. 'But we wanted to ensure they would be as relevant and helpful as possible to the people who need to use our research, be they health policy makers, health professionals, researchers, consumers, carers or members of the wider community. So we asked representatives from all these areas to identify and share their priorities. We were overwhelmed by the enthusiastic response.'
Throughout the priority setting project the CCCRG heard from over 170 people around Australia via an online survey and a face-to-face workshop, and received nearly 200 suggestions for priority research topics in health communication and participation. The top 22 initial research priorities were reduced to 12 topics through a voting process, and from there the following top five priority Cochrane Review topics were decided:
> 1       Improving communication about end of life care
> 2       Patient, family and carer involvement in patient safety
> 3       Improving future doctors' communication skills
> 4       Consumer engagement strategies
> 5       Strategies for health professionals to promoting patient-centred care
'There continue to be so many positive outcomes from this project,' Annie says. 'One of the most rewarding aspects was the enthusiasm and consistent commitment of all our participants. They not only invested their time throughout multiple stages of the project, but were keen to learn about the outcomes and continue their involvement in our work. So we've strengthened ties with our stakeholders and laid the ground work for really productive ongoing engagement.'
The steering group proved to be vital to the success of the project. Made up of consumer representatives, funders, representatives from government health departments/bodies, health service managers, health professionals, and researchers with previous experience of prioritisation activities, the steering group helped determine how broad the range of topics should be and gave shape and direction to the project as it progressed. 'With their extensive networks, the steering group were invaluable with promotion and recruitment, and helped shaped the dissemination activities so that they were relevant and useful to key stakeholder groups,' Annie says. 'They also identified opportunities for intersection with our work and current policy activities in Australia.'
'On the advice of our steering group, we worked with professional designers and several consumers who'd been involved in the project, to produce our final report. In this, we shared our approach and what we learnt. It includes some interesting reflections from both the priority review author teams and project participants. Since promoting the final report, we've been contacted by numerous policymakers, researchers and health organisations internationally, keen to get involved in the priority reviews or learn more about our approach.'
'In terms of the reviews themselves, work is already under way. We have author teams working on all our priority Cochrane Reviews now, and they are all actively involving consumers and/or other stakeholders such as health professionals, medical students or policymakers as co-authors, partners or advisors in the review process,' Annie explains. 'We hope the first of the reviews will be published and actively promoted towards the end of next year. We'll also work towards another round of priority Cochrane Reviews in 2017 based on some of the other suggested priorities from this exercise.' For the CCCRG, this exercise has shaped a whole new approach to ensuring that their reviews are done in a way that means they are meaningful and useful, and that they reach the people who need them.
Image: Annie Synnot, La Trobe University
Words: Shauna Hurley