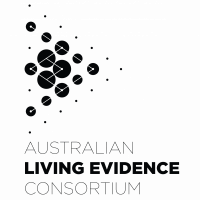 Cochrane Australia and the Australian Living Evidence Consortium have welcomed the announcement that the Victorian Government will invest in the 'Living Evidence' model to transform the way new research is used to improve outcomes for patients in Victoria and around Australia.
Last week's Victorian budget announcement included $4 million in funding for Living Evidence Phase Two, a four-year program to develop a world-leading, end-to-end evidence system to enable busy frontline clinicians to stay continually up-to-date with the latest research so they can provide the best possible care.
The Living Evidence model harnesses innovations in software, data systems, machine learning, citizen science and co-production to enable continual evidence surveillance and near real-time updating of high-quality systematic reviews and clinical practice guidelines.
Established in 2018, the Consortium is led by Cochrane Australia and brings together Australia's leading guideline developers in stroke, diabetes, kidney disease, heart disease and musculoskeletal conditions.
On the back of Commonwealth-funded living guideline pilot projects in stroke, diabetes and arthritis, the Consortium stepped up in March 2020 to establish the National COVID-19 Clinical Evidence Taskforce and deliver the world's first living guidelines for the treatment of COVID-19.
Consortium Chair Associate Professor Julian Elliott said the announcement was welcome recognition of the homegrown innovation that has led the world in developing the Living Evidence model. 
'We thank Minister Pulford and the Victorian Government for their vision and national leadership. We have been developing the Living Evidence model over the last five years and it's now being taken up by the World Health Organisation and countries like the UK, so it's wonderful to now have the opportunity to truly embed the model here so that Australian patients can benefit from Australian innovation,' A/Professor Elliott said.
'There is a very high level of enthusiasm and support for this work building around the country. Projects like the Stroke Living Guidelines and the work of the Taskforce have shown us that with new technologies and ways of working together, it is possible to update guidelines with new evidence in near real-time, so that patients benefit now­—not years down the track.'
Stroke Foundation Clinical Council Chair Professor Bruce Campbell said the living guidelines model has already made a positive impact in stroke, empowering health professionals to deliver the very best evidence-based treatment and care.
'More clinicians use the Clinical Guidelines for Stroke Management than ever before because they are up-to-date, reliable and easily accessible online,' Professor Campbell said. 'There is no doubt this is saving lives and improving outcomes for stroke patients.'
The Victorian Government's commitment will form part of a national funding partnership that is envisaged between State and Territory Governments, the Commonwealth Government and major philanthropic donors that include the Ian Potter Foundation and the Lord Mayor's Charitable Foundation. Further announcements on the launch of this national initiative are expected in the coming weeks.
The Australian Living Evidence Consortium members are:
·       Cochrane Australia (lead)
·       Australasian Paediatric Endocrine Group (APEG)
·       Australia and New Zealand Musculoskeletal Clinical Trials Network (ANZMUSC)
·       Australian and New Zealand Society of Nephrology (ANZSN)
·       Australian Diabetes Educators Association (ADEA)
·       Australian Diabetes Society (ADS)
·       Kidney Health Australia (KHA)
For more information and media enquiries, contact: Eloise Hudson, 0417 437 967 eloise.hudson@monash.edu
 Date published: 24 May 2021