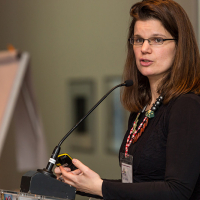 Tari Turner first visited the slums of Manila at age seven, on a trip to meet her family's sponsor child. It was, unsurprisingly, a confronting and life-changing experience that left her determined to work to make a difference and help people and communities across South East Asia. 
Today, this commitment and connection to countries across our region is clearly reflected throughout Tari's research and implementation work for both World Vision Australia and Cochrane. Her research work has had a strong focus on maternal and child health in low income settings. Most recently, Tari was part of the SEA-URCHIN Project, which investigated whether implementation of research evidence can improve prevention and treatment of neonatal infection in hospitals in South East Asia. 
In recognition of her expertise, experience and passion for research in this area, Tari was last month appointed Co-Editor-in-Chief of the international online journal Health Research Policy and Systems, published in collaboration with the World Health Organization. HARPS covers all aspects of the organisation and use of health research – including agenda setting, building health research capacity, and how research as a whole benefits decision makers, practitioners in health and related fields, and society at large. All subject matters of longstanding interest to Tari.
'This new role is really a privilege, a pleasure and a welcome challenge,' Tari says. 'Since it began almost 15 years ago, HARPS has become an increasingly important forum for exploring high quality and timely research on the role of research in strengthening health systems and improving health outcomes. To date, the journal has published around 590 articles by authors from almost 80 different countries, and my fellow Co-Editor-in-Chief  Fadi El-Jardali and I are very much looking forward to building on this. And particularly important for me is the strong focus HARPS has always had on lower resource settings – something I think the wider research community needs to adopt as well.'
Tari and Fadi will now have the opportunity to shape the direction of the journal, the kinds of articles that it features and the focus of the conversations it encourages. 'As we outlined in our first editorial, there are really three key areas we're passionate about. That is we want to support an integrated community of researchers and policy-makers; build a focus on how health research and policy systems can support achievement of the Sustainable Development Goals; and strengthen our commitment to communicating and disseminating the work published in HARPS. And ideally, we really want as many people as possible to join the conversation and contribute their thoughts and ideas about how we can work together towards an evidence-informed future.'
Both professionally and personally, the new editorship role is one Tari is very much looking forward to embracing. 'My favourite thing in the world is to be in a room full of super intelligent people discussing the results of research and how we can apply it to tricky questions,' she says. 'My new role with HARPs gives me a real opportunity to do this in an ongoing, virtual sense. You've got all these really intelligent, diverse people – researchers and policy-makers from low income and high income settings - and we're all talking about stuff that really matters. It's a privilege I look forward to enjoying and learning from in the months and years to come.'