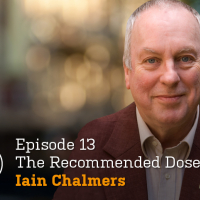 This week, a very special conversation with a maverick British medico who set up a tiny research centre in Oxford and watched it grow into a global collaboration of over 40,000 people across 130 countries. Three decades on, the Cochrane Collaboration now produces the world's most trusted health evidence that's used by patients, health professionals, researchers and policy makers around the world every day.
Cochrane co-founder Iain Chalmers joins Ray to look back on the origins of the organisation and the extraordinary life of its namesake, Archie Cochrane. Iain also reflects on his work beyond the collaboration - from working in refugee camps in Gaza to teaching children in Uganda how to detect 'bullshit' health claims and more recently, establishing the James Lind Alliance. It's no surprise he's received the BMJ's most prestigious award for a lifetime of achievement in healthcare, along with a knighthood from the Queen.
Listen in on SoundCloud, Apple podcasts, Google Podcasts or wherever you listen to your favourite shows. You can also find all the episodes of series 1 & 2 of The Recommended Dose on our podcast page.