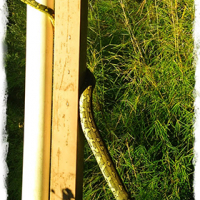 With spectacular views and a seemingly sociable snake in occasional residence, Melissa Murano might just lay claim to the most idyllic and unusual of all Cochrane offices. Tucked away in the beautiful river town of Bellingen at the foot of Australia's Great Dividing Range, it's proved the perfect location to appreciate nature's grand designs on one hand, while helping manage one of Cochrane's largest and most ambitious global projects on the other. 
'You could say I'm a living example of what Project Transform is all about, which is bringing people, processes and technology together to improve the way we work - no matter where you're based!' Melissa laughs. Together with the team at Project Transform, Melissa has been working closely with contributors around the globe to ensure comprehensive consultation processes are complete, milestones are met, and ambitious goals are realised throughout the duration of the three-year landmark project. While it's most definitely a demanding role, it's also one she relishes. 
'The early challenge for me coming into Project Transform was to get a handle on Cochrane's organisational structure and the myriad of processes involved in undertaking and completing a Cochrane review,' she says. 'This knowledge has been critical in helping me to understand and identify how and where this project can make a practical difference to both our individual and collective workloads. You could say I've enjoyed a very steep but rewarding learning curve over the past 18 months, and I'm looking forward to putting all this to further good use in the months to come.'
Melissa's recent experience leaves her well placed to help the team meet a significant challenge inherent in this kind of large scale project – that is, to ensure people can understand what it's about, how they can get involved and what practical benefits it will bring. 'Given the project has four distinct components of varying complexity, the Project Transform team is really focused on providing clear, helpful and accessible information about what we're aiming to achieve,' Melissa explains. 'As such, we recently challenged our project co-lead Julian Elliott to explain the project and highlight its benefits in a quick two minute video. He took some convincing to front the camera at first, but we concluded it would be a worthwhile and helpful cameo,' she laughs. 'The next challenge will be persuading James Thomas, our project co-lead, to host a video guide to Evidence Pipeline. We know he'd be perfect for the role!'
Cinematic endeavours aside, much else has been achieved during the first action-packed 18 months of the project. Melissa attributes various successes directly to the contributions of Cochranites from all corners of the globe. 'So many people have shared their enthusiasm and ideas with us, providing input, testing our new systems, offering constructive feedback and ultimately supporting and inspiring the Project Transform team to deliver on its mission to improve Cochrane's impact and topic coverage.' Melissa says. 'So to all I say a big thank you for this invaluable input, which will continue to shape our work in both the short and longer-term.' 
The fruits of the Project Transform team's effort combined with widespread community input are evident in four key highlights to date. If you're visually inclined, why not cast your eye over the handy illustrated snapshot of this progress below, which shows:
Evidence Pipeline

is working with Cochrane Crowd to accurately identify Randomised Clinical Trials (RCTs) for inclusion in the Cochrane Register of Studies Databse (CRS-D) and Review Group flags are being applied to all existing and new study records in CRSD. Information Specialists can already see these results via the new CRS-Web interface.

Cochrane Crowd

contributors are accurately identifying RCTs for inclusion in CRSD – since platform launch in April, over 3,400 RCTs have been identified by the crowd. We're now introducing DTA study identification as the second micro-task.

TaskExchange

has enabled people to get help with language translation, consumer input, data extraction and peer review, as well finding new author team members. Over 430 contributors have joined TaskExchange in just over five months, with more than 165 tasks posted from people looking for help with their review. And with TaskExchange

access now broadened

to the global evidence community, that help is now even closer at hand.

Production Models

has established a very active and very large Living Systematic Review Network that's now working on pilots for Living Systematic Reviews.
So what's next for Project Transform? Melissa is now looking ahead to October, when she'll swap the verdant valleys around Bellingen for the bright lights of Seoul. 'The Project Transform team have plenty of workshops, presentations, a symposium and a special session planned for the upcoming Colloquium,' she says. 'I'm really looking forward to catching up in person with many of the incredibly talented, committed, passionate and hard-working people I encounter daily in my work across the Cochrane community. This is what I enjoy most about my work, and it's the first thing I mention when members of my close-knit local community ask me quizzically what it is I do working from home. I like educating friends and neighbours about the extraordinary people, work and nature of our Cochrane community. I guess this is a kind of take on the think global, act local philosophy,' Melissa concludes. 'And I'm lucky enough to enjoy the best of both worlds.' 
For more information or to share your ideas about how Project Transform can help you, visit the Project Transform website or email transform@cochrane.org.
Words: Shauna Hurley