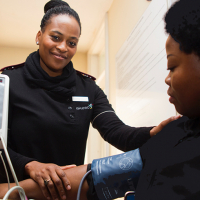 The World Health Organization (WHO) and Cochrane Pregnancy and Childbirth Group have developed an innovative new 'living guidelines' approach to global maternal and perinatal health recommendations. As Dr Joshua Vogel, Associate Editor at Cochrane Pregnancy and Childbirth highlights in BMJ Global Health today, this approach represents an important step towards ensuring the latest evidence can be translated into practice as quickly as possible – improving care at the bedside for women and babies around the world.
'Over the last ten years, WHO has produced over 400 evidence-based global recommendations on how best to improve health during pregnancy and childbirth,' Dr Vogel says. 'Ensuring that all these recommendations stay up-to-date and reflect the latest evidence has been a really significant challenge.'
'The good news is that a new 'living guidelines approach' now enables us to combine ongoing literature surveillance with rapid appraisal of the potential impacts of new evidence on existing recommendations. We can also identify and accelerate updates of high-priority Cochrane reviews for critical and time-sensitive questions.'
'This represents a real improvement on to the current system, in which most guidelines are typically updated only every few years – during which time strong new evidence may become available but not be incorporated in time. The key problem has long been that if recommendations aren't reviewed and updated with the latest evidence in a timely way, women's health can be adversely affected,' Dr Vogel explains. 'On the other hand, we know there are other recommendations for which the evidence base rarely changes - so spending time on reviewing them doesn't represent the best use of limited resources.'
'Ultimately we need the latest evidence to reach healthcare providers through updating recommendations in a responsive and dynamic way. We can then help ensure high quality, evidence-based care is delivered around the globe.'
 So far, 25 WHO maternal and perinatal recommendations have been created and updated using the 'living guidelines' methodology, including two on postpartum haemorrhage, one of the leading causes of maternal death worldwide.
Further information: