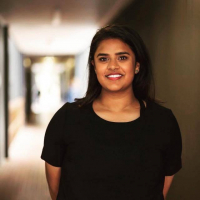 Mindfulness has been growing in popularity across the globe over the past decade, and is increasingly the subject of scientific research into the benefits it may deliver. In 2020, six Monash medical students sought to better understand if and how mindfulness practice could help fellow medical students and junior doctors deal with the significant stresses and demands of their studies and chosen profession.
Alice Jiang, Gizem Hasimoglu, Jonathan Shachar, Qiao Xin Tee, Darren Trinh and Praba Sekhar signed up for the formidable task of completing a Cochrane systematic review of the latest evidence as part of the School of Public Health and Preventative Medicine's Scholarly Intensive Placement (SIP) placement program. 
'We all briefly looked at mindfulness during medical school,' Praba explains. 'So it was really interesting to be involved in a project that evaluated and assessed the effectiveness of mindfulness in a target population that I'm actually a part of. We know both from our first hand experiences as students and from the extensive research that we conducted, that levels of psychological distress, depression and anxiety are consistently higher in medical students. Studies here in Australia found 48% of medical students to be psychologically distressed - that's more than four times that of peers the same age. Junior doctors work longer hours (averaging 50 hours a week), and students report high expectations, competitiveness, frequent exams, heavy study loads and many time pressures as key contributing factors. Given mindfulness is now widely considered for beneficial and therapeutic uses, exploring how it might help stressed-out students and doctors as part of this placement program made a lot of sense. '
Supervised by Cochrane Australia's Dr Tari Turner and Professor Sally Green, the students completed the SIP program and their Cochrane review using a unique relay-style approach - exploring both the evidence on mindfulness, and the challenges and rewards of conducting a systematic review.
'All of our SIP participants proved themselves to be incredibly clever, creative and committed,' Tari says. 'Each student worked intensely for short periods of between six to nine weeks and passed the baton to the next person to progress the review. Collectively they covered everything from developing a protocol, to searching and selecting studies, collecting and analysing data, and understanding risk of bias, health economics and equity in systematic reviews. The result of this extraordinary effort is tangible. Mindfulness-based psychological interventions for improving mental well-being in medical students and junior doctors is now with Cochrane for peer-review and is expected to be published later this year. Sally and I are really impressed with and proud of all of our SIP students' individual and collaborative achievements.'
The consensus among participants is similarly positive. 'My work with Cochrane Australia gave me a wider appreciation for the time-intensive nature and thoroughness needed to carry out a Cochrane Systematic Review,' Praba says. 'I particularly enjoyed learning about specific technical skills required. Performing thorough data extraction and risk of bias was an invaluable experience. The skills I gained have enhanced my ability to make clinical judgement as a medical practitioner, and increased my ability to understand, scrutinise and evaluate medical advice and evidence.'
Fellow participant Darren Trinh couldn't agree more, and found the SIP program changed his perspective on many aspects of both research and researchers. 'I had an image in my head that presented researchers as very competitive, very busy, scary people - probably akin to an evil lab scientist who had to compete for grants to put food on their table with no time for medical students who are thrust upon them,' he quips. 'Fortunately, this was the complete opposite of my experience and I thoroughly enjoyed interacting with researchers at Cochrane and internationally.' 
'The collaboration during the systematic review process offered an amazing insight that has changed the way I see systematic reviews. So many people work together, sharing an incredible amount of energy, resources and skill to create this single piece of evidence. It's now clear to me why systematic reviews are seen as the peak of the evidence pyramid.'
Photo: Praba Sekhar
Words: Shauna Hurley
Date published: 18 February 2021