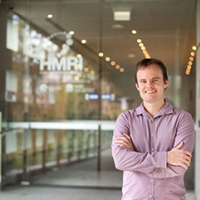 Earlier this year Luke Wolfenden took up his new role as joint Co-ordinating Editor of Cochrane Public Health, realising a long-held ambition to make a major contribution to Cochrane locally and globally. Based at the University of Newcastle, he shares the co-ordinating editor role with Hilary Thomson at the University of Glasgow in the UK. Here he shares a little about his recently published reviews and various community-based initiatives that aim to make a positive impact on public health.
'My first job post-PhD was at the UK Cochrane Centre back in 2005,' Luke says. 'Evidence Aid had just got underway to help victims of the Boxing Day Tsunami, so it was an exciting time to get involved. There was a tremendous opportunity to have real impact improving health and well-being, using systematic reviews as a vehicle. Evidence Aid just at that time proved a great demonstration of how that could occur and from that point, I was really drawn to Cochrane and looked for more and more ways to get involved. As joint Co-ordinating Editor, I now hope to strengthen the impact Cochrane Public Health is having on improving health outcomes globally. Many chronic disease and public health issues are by nature incredibly complex. Policy makers and practitioners need evidence to help them identify strategies to address these issues and improve the health of communities. I see Cochrane as having an important role in these decision-making processes.'
From practical initiatives to improve the nutritional value of food in school canteens, to helping sports clubs serve alcohol more responsibly and assisting hospital patients to quit smoking, Luke's wide-ranging programs share a common aim of making positive and tangible change. 'My research and behavioural science work really focuses on how we can create and sustain positive environments that are supportive of people and good health – be that in health clinics, hospitals, schools, childcare centres or sports clubs. By implementing chronic disease and injury prevention initiatives at this kind of grass roots level, you can see first-hand if and how your research can be translated into making a real world impact.'
'One of the key problems I'm interested in is how to improve the implementation of evidence-based chronic disease prevention programs in community settings. Decades of research have identified a range of effective interventions to prevent chronic health conditions, however, there's not a lot of evidence about the strategies you might use to implement those interventions in different settings. So while we might have hundreds of trials looking at health behaviour interventions in schools, we only have a handful of trials looking at how we can really get these into practice. And unless we know how we can implement evidence-based interventions, then we'll have a haphazard and largely ineffective approach to translating them.'
Luke has authored three Cochrane reviews over the last year that aim to tackle this issue, including: 
Each of the three reviews pointed to the need for more high quality research in this area and highlighted the opportunity to improve the evidence base.
'These reviews will form a big part of practice guidance for public health policy makers and practitioners in Australia in the coming years,' Luke says. 'While the evidence in the field accumulates, we will be drawing on the review findings to develop practical consensus-based guidance for schools and childcare centres that will help increase the likelihood the programs can be implemented successfully in a range of settings. This is a really important part of translating research into practice - especially when you can work collaboratively with the people and organisations who are able to make a difference at the community level - reducing health risks like obesity, lack of exercise, drinking and smoking.'
As well as his authoring and editorial roles with Cochrane Public Health, Luke is also a member of the Cochrane Living Evidence Network and authored on one of the first Living Systematic Reviews published in the Cochrane Library - Interventions for increasing eating of fruit and vegetables in children aged five years and under. 'We were excited to be able to update this review while learning about the methods and feasibility of living systematic reviews. We worked with some really clever people in the network and learnt so much by getting involved. It was just a really good experience and something I look forward to getting more involved with in the future. The technology is only going to improve, as is our ability to make a real impact on public health here in Australia and around the world.' 
Image: Luke Wolfenden. Photo courtesy of the University of Newcastle.
Date published: December 2018