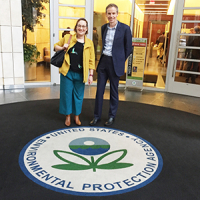 Last month Cochrane Australia Research Fellow Annie Synnot and Senior Research Fellow Julian Elliott took living systematic reviews on the road in something of a whirlwind tour of the United States and Canada. Here Annie shares some of the highlights, including a timely visit to the US Environmental Protection Agency...
'This very fruitful trip came about thanks to the team at Cochrane Canada, who wanted to introduce the Living Systematic Review (LSR) concept to a North American audience,' Annie explains. 'It presented a great opportunity to run an introductory workshop, while delving deeper into some of the opportunities and challenges that LSRs present. We held a two-day workshop immediately after the Canadian Cochrane Symposium in Hamilton in mid-May, and invited North American members of our LSR network, and others with an interest or experience in LSRs. It was a fantastically knowledgeable and enthusiastic group!'
The concept of living systematic reviews and living guidelines is of increasing interest to evidence producers, guideline developers, decision makers, funders and publishers around the globe, as a way to dynamically connect evidence and practice. The goal is to dramatically reduce the time it takes to translate new research into evidence, guidance and action. An LSR is defined as a systematic review which is continually updated, incorporating relevant new evidence as it becomes available. Practically, this means that LSRs are underpinned by continual, active monitoring of the evidence (ie. monthly searches) and immediately include any new important data, studies or information that are identified. LSRs offer a new opportunity for Cochrane and others to produce evidence that is both trustworthy and current. 
'The possibility of a scaled-up living evidence approach has only recently been within reach, thanks to a number of technological and data-related innovations, such as online platforms, linked data and machine learning,' Annie says. 'At the same time, research groups are embracing larger collaborations, open and shared data, and the growth of the citizen science movement, opening up the possibility of communities with a common interest maintaining high value datasets and associated LSRs. This growing interest and enthusiasm was really evident throughout our recent travels.'
'I'm not sure what it was that made our Canadian workshop so special, but there was an amazing energy in the room. We were lucky to have many participants who are leaders in their field in areas like systematic review methods, citizen science, guidelines and knowledge translation, plus lots of people who have practical experience piloting LSRs - which is still a pretty new concept. Having all these people together for two days allowed us to further the thinking about methods for LSRs, including searching and meta-analysis, but also explore areas we hadn't delved into before, like knowledge translation and consumer engagement opportunities; and for the first time start to shape a research agenda for LSRs.' 
Annie and Julian's travels also included various stops in the US including one at the US Environmental Protection Agency (EPA), where they delivered a seminar to 70 staff on the future of systematic review, including LSRs. 'It was a particularly interesting time to be visiting – especially given that President Donald Trump wants to cut the EPA's budget by nearly a third,' Annie says. 'We weren't sure how relevant our talks would be in the current climate but we were blown away by the enthusiasm and interest of the team, and inspired by their resilience and commitment to the work they do. They have so much evidence about so many different environmental health risks to keep on top of. We were exhausted just thinking about how they manage it! So there's great potential for new technologies, platforms and ways of working, which we discussed with the EPA team.'
'So overall the trip proved to be an extremely interesting and productive one. The Canadian LSR workshop has given us something of a road map as we move forward with LSRs and has pushed our LSR Network membership to over 130 people,' Annie says. 'It's also an exciting time as the first of our pilot LSRs will soon by published in the Cochrane Library.  We're starting to look towards the Global Evidence Summit in Cape Town, where we'll be running a Special Session on LSRs and living guidelines, presenting on our progress with the pilots and hosting another stimulating LSR Network meeting. In the meantime, we've just launched our LSRs web page which provides plenty of information and links to a detailed guidance document to support the Cochrane LSR pilots, so we encourage people to find out more there. Our trip showed there's a great deal of enthusiasm for LSRs and we look forward to drawing on that as our ambitious program of work continues.' 
Image: Annie and Julian at the US EPA
Words: Shauna Hurley
Support for Project Transform was provided by Cochrane and the National Health and Medical Research Council of Australia (APP1114605). The contents of the published material are solely the responsibility of the Administering Institution, a Participating Institution or individual authors and do not reflect the views of the NHMRC.