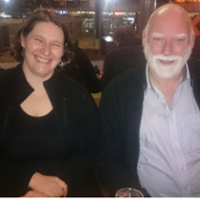 Long-time Cochrane contributor Peter Herbison has spent the past 40 years wrangling numbers and refining research methods to improve both the accuracy of health evidence and the quality of people's healthcare. Now embracing retirement, his focus has shifted from a prolific publishing schedule to producing the perfect pinot. He took some time out from his recent tour of Victorian vineyards to share his thoughts on the most important factors in the health research equation.
In 1974, Peter Herbison's dad snipped a job ad from the local newspaper and sent it off to him in faraway London. The University of Otago was seeking a mathematically minded sort to assist with statistics and computer programming – two of young Peter's favourite pursuits. He applied, won the job and cut short his international adventures accordingly, returning home to New Zealand for a long, successful and suitably symmetrical career.   
'I started in my job on 1 August 1975 and retired exactly 40 years later to the day – quite deliberately,' Peter explains happily. This temporal neatness reflects his interest in and affinity for numerical exactitude, which has found expression throughout his journey from humble statistician to Emeritus Professor of Biostatistics and now to a budding viticulturist. But we'll get to the wine later, as for Peter the numbers always come first. 
'I always wanted to help people and statistics are such a good way to do that,' he says. 'When you think about it, if you're a doctor or a health practitioner you usually help one person at a time. But when you do research, you can help millions of people at the same time. The reality is that people can do good quality clinical care but if they do terrible research and publish rubbish, that's not helpful for people at all. So I've been fighting this all my life really, advocating for much better and more useful patient-centred research. My own work has focused on the conduct, statistical analysis and reporting of randomised trials, along with some methods research in meta-analysis and systematic reviews. These are all critically important areas if we are to do health research properly and bring real benefits to patients.'
Peter's contribution to research within Cochrane is a significant one. Over the past 20 years, he has worked with 11 Review and Methods Groups and co-authored 24 Cochrane reviews, including ten for the Incontinence Group. 'Incontinence is a really common and disabling condition that effects all sorts of people, so I wanted to do something about it,' he says. 'Of the various reviews I authored, you could say Anticholinergic drugs versus placebo for overactive bladder syndrome received the most attention. A condensed version of it was published in the BMJ in 2003, with a front page headline that read 'Anticholinergic drugs: are they any use?'. Well about 90% of people read only the headline, 5% read the condensed article, 2% read the full article and 1% read the full Cochrane review. So the headline created a lot of fuss! We didn't actually say they were useless, we just said people should think about whether they're worthwhile. But the headline gave a different impression and that certainly got something of a controversy going. We knew there were criticisms but didn't receive any formal complaints or comments on the Cochrane Library website. And that's because ultimately, for all that controversy, we did in fact get that review right.' 
Peter has seen a great change in the technological applications and methods used to conduct Cochrane reviews in more recent years. 'Everyone is now just trying to increase the methodological quality of Cochrane reviews and they definitely are getting better in those terms', he says. 'People make fewer mistakes but there are issues with some authors coming to very definitive conclusions on the basis of a few studies that are poorly done. You know they're not wonderful studies but they've done all the right steps to get there. Sometimes the conclusions are too definitive, especially considering that you might have just 50% of the evidence. People worry about whether we're using the right random effects method when that actually makes minimal difference. It's the missing studies that would make the real difference. That was the point of my inaugural professorial lecture, which I called 'Life is full of trials'. The thing is that there are so many trials out there and so many of them are useless or we don't know about them. This is a real issue and it highlights the need not for just more research, but for much better research.'
Despite his official retirement, Peter continues to contribute to the health research debate while enjoying more time for personal pursuits. 'I have written a Cochrane blog and I occasionally review papers, but for the most part I can now enjoy tending to our small vineyard in Bannockburn in New Zealand. It's a shared enterprise we started about 15 years ago with a couple of very good friends. We planted 256 vines and agreed we'd share the costs, the wine and the work. While it's been a little more work than I thought it might be, it's been a very interesting learning experience. Just like my career as a statistician really.' Hopefully it will be just as fruitful. 
Image: Cochrane Australia's Joanne McKenzie and Peter Herbison catch up to talk biostats during his recent stint in Melbourne.