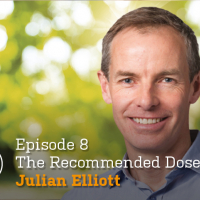 Ray's guest this week is Julian Elliott - the well-travelled Australian doctor, researcher and big picture thinker who aims to use new technology to radically improve health systems and access to evidence for people around the world – whether they're in high or low income countries.
Julian is something of a futurist. So at a time when all kinds of websites, apps and wearable devices are ingesting our health and personal data, Ray asks him what the consequences of this ever increasing deluge of data might be. Should we be concerned about how our personal data will be used or hopeful about the promise all this new information holds for understanding and improving human health?
Julian also shares his insights from his early work as a doctor in the Northern Territory and as a HIV specialist in Cambodia. He explains how these experiences continue to inspire his work to bring people, processes and technology together to realise better global health.
You'll find this and all our other episodes on soundcloud, itunes, stitcher, our podcast page and wherever you listen to your favourite podcasts.