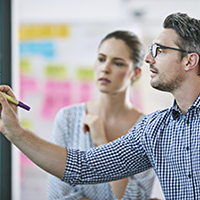 Cochrane Australia, the Charles Perkins Centre and Bond University's Centre for Research in Evidence-Based Practice hosted a workshop for journalists on 'Uncovering and covering conflicts of interest in health' last month. An impressive group of senior print and television journalists from ABC, The Sydney Morning Herald, The Canberra Times, News Corp Australia, The Conversation and other organisations attended the half-day course at Sydney University.
Co-convenors Lisa Bero and Ray Moynihan kicked off the workshop with brief reviews of evidence on the importance of 'following the money' when it comes to sponsored science, sponsored scientists, and sponsored professional and patient groups. They discussed industry strategies gleaned from internal corporate documents that included suppressing research that did not have findings favourable to the sponsor and tactics for 'discrediting' and 'neutralising' scientists who failed to support industry positions. While the workshop participants arrived with a fairly high degree of scepticism about corporate influence on health, the sense of their engagement with the topic was palpable throughout, with one noting in feedback that the workshop 'gave me a more critical eye'.

The journalists were introduced to a number of online resources to help them identify conflicts of interest of health researchers and practitioners, and sponsorship of patient and advocacy groups. They were also introduced to a database of experts who have no financial industry ties. Then the fun began. Working in groups of 2 or 3 – in teams combining people who would normally be competing – the journalists were tasked with cooperatively writing short stories based on their examination of different databases. During the workshop they created two sets of stories – one related to pharmaceutical industry sponsorship of 'educational' events and the other to industry support of patient advocacy groups in Australia. In around ten minutes flat, the teams had written stories which were already making important links between industry sponsorship of events for professionals, sponsorship of advocacy groups and lobbying to influence decisions about what gets listed on Australia's all-important Pharmaceutical Benefits Scheme. 
Participants came away with an interest in covering conflicts of interest more routinely, making conflicts of interest the focus of their stories more often, and a desire to use available disclosure databases and push for more. As one participant said in feedback, 'Digging into COI is fun – should do it more often!' And, the co-convenors came away with more work to do: Lisa and Ray were encouraged to 'take the workshop to the newsroom'. So stay tuned for better coverage of conflicts of interest in health and more opportunities for journalists to expand their resources and help improve public understanding of the complex relationships between sponsorship and science.