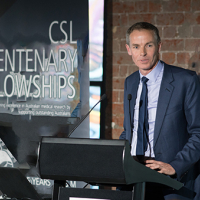 As an HIV doctor working in Cambodia in the mid-2000s, Julian Elliott saw first-hand the critical need for accessible and up-to-date health evidence to inform both daily clinical decisions and public health programs. These early experiences shaped his determination to create better ways of understanding research and translating research findings into practice. Since then he has been developing ways for people to use new processes and technologies to create and use evidence. His innovative approach was recognised earlier this month, when he was awarded this year's Commonwealth Health Minister's Award for Excellence in Health and Medical Research. Here, he shares his thoughts on past, present and future aims and aspirations.   
'My work with the Cambodian Government in the early days of HIV treatment scale-up gave me an acute awareness that we need to find quicker and better ways to translate research into accessible evidence and action to improve health,' Julian explains. 'With literally thousands of people dying of HIV at that time, we had to move with extraordinary speed to roll out urgent treatment programs. I worked with so many bright and committed Cambodians, trying to figure out what worked and what didn't - but it was incredibly difficult to find the high quality evidence we needed for sound decision-making, patient care and program development. Even when WHO Guidelines were published, they were written to provide global advice and weren't tailored to the specific setting in which we were working. So there was this huge gap between global knowledge and global practice and I felt there had to be a better way to bring the two together.'
Fastforward a decade or so, and Julian and colleagues have built a program of work that is rethinking all aspects of evidence synthesis and use. 'When I left Cambodia, I could already see very clearly that we could do things differently,' Julian says. 'We could use systems that were dynamically connected, so that instead of publishing research, systematic reviews and guidelines – a cycle that can literally take years – we could create, link and update datasets, so that new research findings could flow through to health systems in days, not years. But that's really only one part of the equation. Even with all the advances we've seen, technology alone isn't enough to make sense of the data deluge we're now experiencing. The key is bringing people together around new processes, supported by great technology. By establishing new ways for people to contribute and collaborate we can make sense of research, improve speed and efficiency and create real change – which essentially is what my work is all about.' 
'So looking back or towards the future, you can see this common thread – be it the establishment of Covidence or more recently Project Transform. Covidence represents the next generation of review production systems, part of Cochrane's standard toolkit and now being used around the world to get systematic reviews done faster. Project Transform shows how we can use machine learning and motivated communities to speed up science. For example, the 6,000 active members of Cochrane Crowd are accurately classifying scientific research papers and speeding up the evidence process. Similarly, TaskExchange illustrates how people from all over the world can help each other to get their systematic reviews done quickly and easily. And the development of the 'living' systematic review and living guidelines model has shown how we can connect research with practice in near real time. With the fantastic network of collaborators involved in Project Transform I am sure we will make even more progress in the next few years.'
Many elements of this work program were included in Julian's recent top-ranking NHMRC Career Development Fellowship (CDF) application, which culminated in his Commonwealth Health Minister's Award earlier this month. CDFs are highly competitive four-year fellowships that support outstanding early- to mid-career health researchers. This year, Julian topped the list of 452 applicants and was duly presented with an award for the application at the Medical Research Week Dinner hosted by the Australian Society for Medical Research in Melbourne in early June.
'I was incredibly honoured to receive this award, particularly given the depth of talent and experience of my fellow applicants,' Julian says. 'Both this award and the CDF will support me and my colleagues to build on the momentum we're seeing in the way we produce, share and translate research. It's the next step on a journey which for me started back in Cambodia - where I wanted to remove the barriers that clinicians, program managers and patients face in getting the high quality, up-to-date evidence they need to make informed health decisions.'
Image: Julian Elliott accepts his award at the Australian Society for Medical Research (ASMR) Dinner, photo courtesy of ASMR
Words: Shauna Hurley