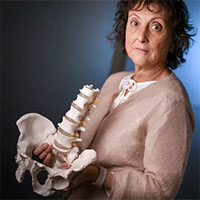 A new Cochrane Review published in the Cochrane Library earlier this month casts further doubt on the role of a treatment for painful fractures in the spine caused by osteoporosis. Osteoporosis is a common disease in Australia, with 1.2 million people estimated to have the condition that makes bones become brittle leading to a higher risk of fractures or breaks than in normal bone.
Vertebroplasty is a procedure that involves the injection of medical-grade cement into a fractured vertebra through a needle inserted into the skin, under light sedation or general anaesthesia. The cement hardens in the bone space to form an internal cast.
The contentious procedure was first performed in the 1990s and grew in popularity around the world, despite a lack of rigorous trials or established evidence base to support its use. In Australia, it was listed on the Medical Benefits Schedule (MBS) in November 2005 on an interim basis, and removed on 1 November 2011 following a planned review of the evidence which included two placebo-controlled trials that found the procedure was ineffective.
Professor Rachelle Buchbinder, Director of the Monash Department of Clinical Epidemiology, Cabrini Institute, has been closely involved in the international research on the efficacy and safety of this procedure for almost a decade, from the first trials in 2009 to the latest research published by Cochrane Musculoskeletal.
'The trial we published in the New England Journal of Medicine in 2009 found vertebroplasty had no beneficial effect compared with a sham procedure, and the results were similar in a second trial published at the same time' Professor Buchbinder says. 'Almost ten years later, the evidence continues to build. We have a clearer picture on the question of vertebroplasty based on the findings of Cochrane Reviews published in 2015 and today that further support and strengthen previous findings.'
'The evidence still does not support a role for vertebroplasty for treating osteoporotic vertebral fractures in routine practice, even in people with symptoms of less than 6 to 8 weeks. We now have high quality evidence based on a larger number of trials and participants that there are no clinically important benefits for patients over placebo, and there is potential to cause harm.'
To update the latest Cochrane Review, Professor Buchbinder worked with a team of researchers across Australia, Canada and the United States who looked at trials performed in hospitals in 15 countries. The updated review includes 21 trials involving 2,862 participants and of these there were 5 trials that compared vertebroplasty to placebo involving 541 participants. All three placebo-controlled trials added to this updated review included participants with short duration of symptoms (8 weeks or less).
'While vertebroplasty declined in use following publication of the first two placebo-controlled trials, it continues to be offered in Australia and in other countries around the world - so it's important that we continue to look at the growing evidence and question why patients continue to undergo this procedure.'
'This latest Cochrane Review aims to provide high quality, up-to-date evidence to inform policy and patient decision-making in relation to this, both here in Australia and in other countries around the globe.'
Read the full Cochrane Review on the Cochrane Library (published 4am Thursday 5 April).
The review findings were reported on SBS and in The Australian in early April.