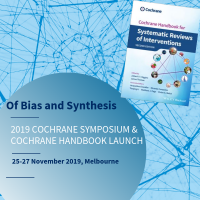 This year's Australasian Cochrane Symposium, held in November in Melbourne, was a little different, prompted in part by the publication in October of the long-anticipated second edition of the Cochrane Handbook. Coinciding with the print version of the Cochrane Handbook, all content is now browsable free online. 
We ran two day-long workshops on two areas of guidance that have undergone substantial revision and development: how we consider bias among randomised studies using the risk of bias 2 tool, and how we make best use of available data when planning and conducting synthesis. Led by the Handbook chapter authors (Matthew Page, Joanne McKenzie and Sue Brennan), we reached capacity with over 70 participants attending each course.
On the final morning, in more traditional symposium style we had a broader wrap of the key Handbook changes and a pointer to other organisational developments (technology, tools, review production and knowledge translation). The Handbook's official Australian arrival was marked by some very generously cream-topped Cochrane cupcakes.
To close the symposium, Karla Soares-Weiser, Cochrane's newly-appointed editor in chief, set out her vision for the Cochrane Library and the future of review production, highlighting themes of editorial integrity and organisational inclusivity.