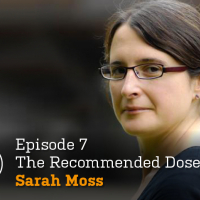 Hailed as one of the best British novelists writing today, Sarah Moss is our very special literary guest on TRD this week. She joins Ray to explore the intersection between fiction and health, and to talk about the doctors, patients, parents and families she portrays so vividly in her five highly acclaimed novels.
The role of the writer, Sarah says, is to 'ask hard questions beautifully'. She certainly does this through her own exploration of individual lives and struggles within clearly defined social structures past and present. From the first female doctors to forge careers against incredible odds in the 19th century to the challenges of working mums and stay-at-home dads in the 21st century - the terrain she covers is immense.
Here she talks to Ray about the research and reflection that goes into illuminating both historical and contemporary medical worlds that share common themes and raise critical questions about the way we live today. Her comments on the British National Health Service (the NHS) are timely and heart-felt.
She also shares her thoughts on the diverse origins of her storylines, which include both her personal experiences of early motherhood and her political response to news reports from warzones around the globe.
Sarah's novels include The Tidal Zone (Granta 2016), Signs for Lost Children (Granta 2015), Bodies of Light (Granta 2014), Night Waking (Granta 2011) and Cold Earth (Granta 2009). She also published a non-fiction book called Names for the Sea: Strangers in Iceland (Granta 2012), which explores her experiences as a resident of Reykjavik.
You'll find this and all our other episodes on soundcloud, itunes, stitcher, our podcast page and wherever you listen to your favourite podcasts. 
Image: courtesy of the University of Warwick
Download a full transcript of this episode