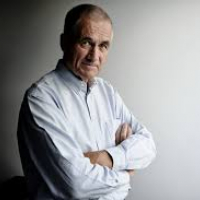 Article published: August 2015
Peter Gøtzsche was greeted by keen audiences and much media attention during his recent whirlwind visit to Australia. The Director of the Nordic Cochrane Centre undertook the one-off lecture tour at the behest of one of his readers, whose 19 year old son committed suicide. The grieving father wrote to Peter asking him to come to Australia to raise awareness of the profound public health issues canvassed in his latest book, Deadly Medicines and Organised Crime: How Big Pharma Has Corrupted Healthcare. 
'I receive letters like this from around the world all the time,' says Peter. 'It's really very sad. The issues I raise in my book really resonate with so many people, many of whom approach me and tell me of their terrible experiences with psychiatry and psychiatric drugs. This is one of the reasons I wrote my book. I wanted to ensure people know more about the lethal harms these drugs can cause. They need to be better informed about the treatments they're being prescribed. This is what I came to Australia to talk about and it's what I found people wanted to hear more about.'
The prolific professor set jetlag aside to accommodate a demanding schedule of speaking engagements and interviews in Adelaide, Brisbane, the Gold Coast, Melbourne and Sydney, where he explored the main themes in his book and other public health issues. He argued that as a society we are over-medicated and uneducated about the harms drugs can cause and that in particular, anti-depressants are doing us more harm than good. He suggests that in an age of marketing-based rather than evidence-based medicine, we suffer physically, socially and economically from the corrupt practices and malign influence of big pharma on research, education and prescribing practices.
These arguments sparked lively discussions in well-attended public forums, hospital grand rounds and in print, online and broadcast media around Australia. Peter appeared in feature articles in The Sydney Morning Herald and The Age, which were syndicated in over 80 Fairfax newspapers across the country from The Ararat Advertiser to the Esperance Express. He appeared on the ABC's 7.30 program focusing on the contentious subject of mammography screening, and was the subject of discussion on Croakey and in The Age's letters to the editor.  This comprehensive coverage prompted oncologist Ranjana Srivastava to pen a thoughtful reflection in the Guardian Australia about the clinical and psychological complexities inherent in the issues under discussion. Peter continued the conversation on drugs, ethics and trial transparency with Dr Norman Swan on his popular ABC Radio National program the Health Report.
Alongside this media discourse were the broad and eclectic audiences that attended Peter's presentations. Health and mental health professionals, alternative therapies proponents and members of the public gathered to listen, enquire and receive frank and fearless answers to their respective questions. This made for interesting footage for the intrepid Danish documentary film crew who accompanied Peter to each of the capital cities. Their film about his life and work will screen later this year. 
'There is a real interest in my book back home in Denmark, which explains why the film crew are following me at the moment' Peter says. 'I know that many people are buying it and borrowing it from libraries, and that's sparked a lot of thinking and discussion about changes we need to make, particularly in psychiatry, where we need to use drugs much less than we currently do as they are quite harmful. I wrote the book in English and translated it into Danish. It's now being translated into another 12 languages and I've been approached by over 30 TV crews around the world for interviews or documentaries about the urgent issues it raises and aims to address.'
So what's next for Peter Gøtzsche? A new book focusing on contemporary psychiatry is due out in September, which he says will likely be his last for a while. Whatever the case, there's no doubt his work will continue to inspire rigorous debate in Australia and beyond. We look forward to reporting in on it regularly.