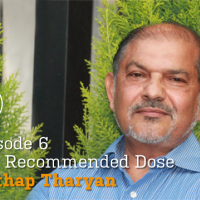 Psychiatrist and would-be international DJ Prathap Tharyan joins Ray from his home in India to explore a fascinating fraction of his work, life and philosophy.
Prathap's wide-ranging agenda reflects a decidedly down-to-earth and original take on understanding and improving the human condition. Be it tending to victims of the Boxing Day tsunami, ensuring humanistic care for the homeless or working with Wikipedia to get better health information to millions around the globe – people and evidence are always at the very centre of his many and varied activities.
Prathap is a leading advocate for evidence-based approaches in Asia, and his work with people in the midst of humanitarian crises has consistently shown that good intentions are no substitute for good evidence.
You'll find this and all our other episodes on soundcloud, itunes, stitcher, our podcast page and wherever you listen to your favourite podcasts.