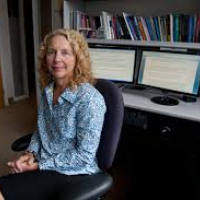 Lisa Bero is no stranger to the Antipodes, having often visited her wide network of colleagues and friends here over the past 20 years. It's no surprise then that she's already feeling right at home after taking up permanent residency in Australia late last year. She is now relishing new professional challenges as the Chair of Medicines Use and Health Outcomes at The University of Sydney's Charles Perkins Centre and is also embracing life as a Sydneysider. 
'It's been a huge change in terms of both geography and my professional environment, but a really positive one' says Lisa. 'I've always worked in predominantly bio-medical organisations back home in the United States, which has been great. Now I'm excited to broaden that out and pursue my interest in tackling the most challenging health issues of our time in a truly multi-disciplinary setting here in Sydney.' 
While nutrition, lifestyle interventions and environmental risks may at first seem a departure from Lisa's previous areas of interest, the importance and centrality of data analysis, evaluation and synthesis remains a key focus. It's the common thread that links her past and present research and represents an integration of her work for both Cochrane and the Charles Perkins Centre. The Centre itself is home to eminent academics from disciplines as diverse as agriculture, architecture, physics and business. It's the kind of workplace where colleagues might converse about anything from the Higgs Boson particle to the merits of Frank Gehry's Paper Bag Building over lunch.
'I'm currently developing a grant proposal that includes an evolutionary biologist, a physicist, a psychologist, a physician, a public health researcher, two historians of science and a nutritionist among the investigators' Lisa laughs. 'As you can imagine, it's a blast putting the project together!' 
Along with her characteristic good humour, Lisa brings to this new role her insights and expertise from a distinguished career that has explored a myriad of health, public policy and research issues - from minimising biases in pharmaceutical research to tobacco control and the influence of corporate sponsorship. She is a passionate advocate for evidence based health care and policy development, and the use of high quality meta-analyses to inform people and practice around the world. 
'An example of a key question for me now is this: how we can evaluate and combine evidence from multiple human, animal and mechanistic data streams to understand and address environmental harms? It's a major challenge' she says. 'Take the example of chemical exposures. People are often exposed to chemicals before they are even reviewed by regulatory authorities, and many have harmful effects that don't appear for years. What are the best ways to identify and evaluate such harms? I want to apply the lessons we've learned from human clinical trials and evidence synthesis to uncover the answers to these types of questions.' 
Despite the data and design challenges inherent in these kinds of big picture environmental studies, Lisa is optimistic about the possibilities for progress. She believes the different perspectives fellow researchers and academics bring from diverse disciplines will enable new perspectives and approaches to emerge. She has already been impressed by the apparent enthusiasm for systematic reviews among her new colleagues. 
'I haven't been here for that long, but anecdotally I can say there seems to be a genuine interest in using systematic reviews here in Australia,' she says. 'At any given meeting I've attended, people immediately look to systematic reviews and evidence as a matter of course. It's actually really striking. In the US people are more likely to say what are the latest individual study findings or let's ask the expert of the day. It's great that systematic reviews appear to inform the thinking here to such a high degree. It's definitely something we at Cochrane can build on to benefit research and real health outcomes.'
Between the demands of her new post and her ongoing work to advance Cochrane's aims here and abroad, Lisa has managed to find a little time to get to know the harbour city and enjoy the great outdoors. 'I've always loved being near water, having been a rower for decades,' she says. 'I've now taken up swimming in the city's ocean pools and love it!' There are just a couple of things Lisa confesses to missing from back home – namely fantastic Mexican food and her beloved San Francisco Giants Baseball Team. However, Lisa is ever the optimist. 'We watch cricket instead now…' she laughs, 'though it's not quite the same!' Perhaps some Aussie Rules football will fill the gap when winter rolls around. In the meantime, Lisa has much to keep her busy.
Image: Lisa Bero 
Words: Shauna Hurley