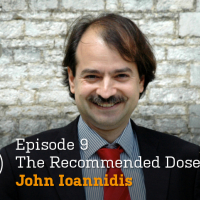 Dr John Ioannidis, professor of medicine and health research at Stanford University, today told The Recommended Dose podcast that most developed countries are spending and wasting so much that health care has become 'one of the leading public dangers for health'.
Dr Ioannidis is recognised by The Atlantic as one of the world's most influential scientists and is best known for challenging the scientific status quo, arguing that much medical research is biased, overblown or simply wrong.
'There's both an overuse and underuse of medicine in health care,' he says. 'There are some settings where we're under-utilising the best options that we have, but in most developed countries, and clearly in the US, we're just spending so much and we're wasting so much that health care is one of the leading public dangers for health.'
'It's possible that our society will disintegrate just because we're wasting too much on trying to do too much that has very little evidence or even has evidence that it is unnecessary. So it's a major threat and something that everyone who's interested in health needs to fight against.'
Now in its second season, The Recommended Dose is hosted by multi-award-winning former ABC journalist and Bond University health researcher Dr Ray Moynihan. The series is produced by independent health research organisation Cochrane Australia (part of the global Cochrane network), and co-published by the BMJ – one of the world's leading medical journals. The series explores the big issues in health today through conversations with leading thinkers from around the globe.
Dr Ioannidis shares his insights on a range of critical topics, including genetics and genomics – areas in which he's considered a global authority. While he says we now have 'a pretty solid knowledge base', he is 'increasingly sceptical about its utility'.
'There was a lot optimism early on that it will be an easy ride, that we will easily understand the genetic underpinnings and then just work on them and have major benefits. This hasn't happened,' he says. 'Most of the narratives about precision medicine really transforming medicine are infested with a lot of hype… So it's a possibility, but it's not a panacea.'
In seeking panaceas for other serious problems afflicting science, health systems and societies around the world more broadly, Dr Ioannidis calls for a coordinated effort to improve literacy and numeracy in the wider general public and says the media could be a major player in transforming the understanding of science and medical evidence by people from all walks of life.
These themes are picked up in future episodes of The Recommended Dose which feature conversations with one of the English-speaking world's best known health reporters Dr Norman Swan, globally respected professor of epidemiology Alexandra Barratt, editor of the highly influential JAMA Internal Medicine Rita Redberg and pioneer health researcher Sir Iain Chalmers, among others. Season one opened with a compelling conversation with BMJ editor-in-chief Dr Fiona Godlee.
You can find The Recommended Dose on SoundCloud, iTunes, Stitcher or wherever you listen to your favourite podcasts.  For full transcripts and more detail about each episode, visit our website at australia.cochrane.org/trd. 
For further information, please contact:
Shauna Hurley
Producer, The Recommended Dose
Cochrane Australia
553 St Kilda Road, Melbourne
Phone: +61 3 9903 0536 or 0400 018 570
Email: shauna.hurley@monash.edu