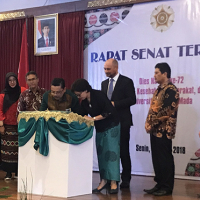 In a significant step for national health research and training, Cochrane Indonesia was launched on Monday 5 March at Universitas Gadjah Mada in Yogyakarta. Cochrane Australia's Co-Directors Professor Sally Green and Steve McDonald joined global CEO Mark Wilson and Cochrane Indonesia's Director Dr Detty Nurdiati at a formal ceremony to inaugurate the high-profile, independent research organisation's newest centre.  The Cochrane Australia team has worked closely with Indonesia colleagues for over two decades. The launch represented the culmination of years of collaborative work by Dr Detty Nurdiati and her colleagues at both Universitas Gadjah Mada and Universitas Indonesia. 
Since 2004, the Indonesia team has been working to increase the role and impact of high quality health evidence in daily clinical practice, in education and training, and in public policy making – particularly in the critical area of maternal and child health. They are now looking forward to increasing efforts to ensure evidence is at the very centre of health research, care and policy in Indonesia.   
Cochrane produces gold standard health evidence that is free from commercial sponsorship and other conflicts of interest. It is used and trusted by individuals, governments, policy-makers and major organisations around the world, from the World Health Organisation to Wikipedia. Doctors, nurses, researchers and health professionals in hospitals, universities and community health clinics here in Indonesia and around the world use Cochrane evidence to underpin health decisions, policies and clinical care guidelines for patients. This is the kind of information that is critical to contemporary medicine and public health.
To date, Cochrane evidence has been used to improve care for pregnant women and their babies, with improved guidelines introduced for the treatment of pre-eclampsia, iron supplementation and education for breastfeeding mothers. Cochrane Indonesia aims to extend this evidence based approach to maternal and child health across all areas of health. 
Cochrane Indonesia will be working with the Ministry of Health to inform policy and practice and importantly, and will continue to train current and future generations of clinicians, midwives and other health professionals in evidence based medicine. This is part of an ambitious global program to make trusted health evidence more accessible to all Indonesians. To that end, the Cochrane Indonesia team will also be translating high quality Cochrane evidence into Bahasa, so that more of our clinicians, health workers, journalists and citizens can access the information they need to make health decisions.  They will continue to work closely with colleagues and friends in Australia.